Western Sydney's musical stars of the future perform at Symphony Under the Stars 2018
Published: 12 January 2018 at 12:00 am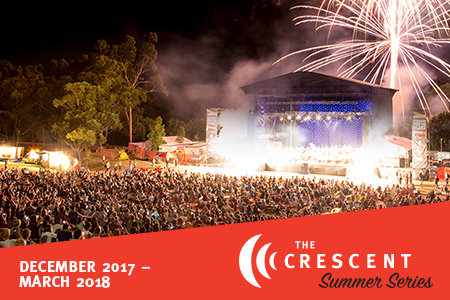 A group of Western Sydney's brightest young classical musicians will take to Parramatta Park's Crescent stage on January 20, as a support act for Symphony Under The Stars with Sydney Symphony Orchestra.
The combination of two bold and exciting ensembles; one brass and one percussion, presented by Resonance Concerts and Events, will feature talented Western Sydney-based school and college students. Ranging in age from 15 years to emerging professional performers in their 20s, they will come together for the first time to perform classics as you've never experienced before.
Led by artistic directors Cameron Gregory and Paul Goodchild, the young musicians will also be mentored by Sydney Symphony Orchestra brass and percussion Fellows as part of their artistic development.
"Our musicians are proud to support the annual Symphony Under The Stars concert which is a long-standing Parramatta Park tradition," co-artistic director for Resonance, Felix Cross said today.
"This year's special pre-concert performance will be a high-energy, uplifting repertoire of popular classics that will showcase the extraordinary talent of Western Sydney's young musicians. They offer hope of a brilliant future for Australian music," Felix said.
Breaking from tradition, the percussion ensemble will feature a less conventional combination of sounds including a DJ and the vocal stylings of renowned Australian beatboxer Chris Gale as well as musicians playing octets, marimbas, xylophones and various drums to recreate scores by David Hewitt, Nigel Westlake and Ravel.
"As a non-classical (beatbox) artist in a classically trained ensemble, I hope to learn as much as possible to expand my artform and try something out of my comfort zone. I'm super excited to be part of this project," Chris said.  
In addition, the brass ensemble comprising of trumpets, french horns, trombones and tubas (among many other instruments) will perform a range of songs including a fanfare from the ballet 'La Peri' and excerpts from the opera Carmen, ahead of a climatic finale.
Eloise Koch, French horn player for the brass ensemble who has just completed Year 12 said, "For the past few years, my friends and I have come to the Symphony Under the Stars performances.   We always set up a big picnic rug with food, and enjoy listening to the spectacular sounds of the Sydney Symphony Orchestra, live under the night's sky.  It is such a privilege this year to be performing in this amazing event.  I am so lucky to be able to work with these talented musicians on such exciting music, as it challenges me to be a better performer".
Sydney Festival's Symphony Under The Stars is an unmissable free, family concert that will be held in The Crescent; a spectacular natural outdoor amphitheatre in the beautiful World Heritage-listed Parramatta Park on Saturday 20 January. It is presented by Parramatta Park in conjunction with Sydney Festival and Sydney Symphony Orchestra.
The young musicians' pre-concert program will commence at 6.30pm before the Sydney Symphony Orchestra takes to the stage at 8pm. Introduced by a well-known Seven News personality and MC for the evening, the SSO will play a series of popular classics and well-known theme tunes, conducted by Benjamin Northey. The evening will conclude with a big bang: the traditional grand finale of Tchaikovsky's rousing 1812 Overture, complete with fireworks and cannon.
"We're proud to be partnering with Sydney Festival and the Sydney Symphony Orchestra to bring Symphony Under The Stars to Western Sydney audiences, while providing the opportunity to showcase some of our young rising stars," Parramatta Park Trust Executive Director Suellen Fitzgerald said today.
"The Crescent is all about atmosphere, intimacy and delivering unforgettable experiences in the heart of the rapidly growing City of Parramatta. It's the perfect setting to enjoy a magical evening of classical music," Ms Fitzgerald said.
The young musicians will perform on The Crescent stage with the support of Parramatta Park Trust and Create NSW.
For more details visit:  www.parrapark.com.au/crescentsummerseries
Follow us on social: @ParraPark
Share with us on Social: #ParraPark