Jumanji Festival 2018
Saturday March 10
The Crescent, Parramatta Park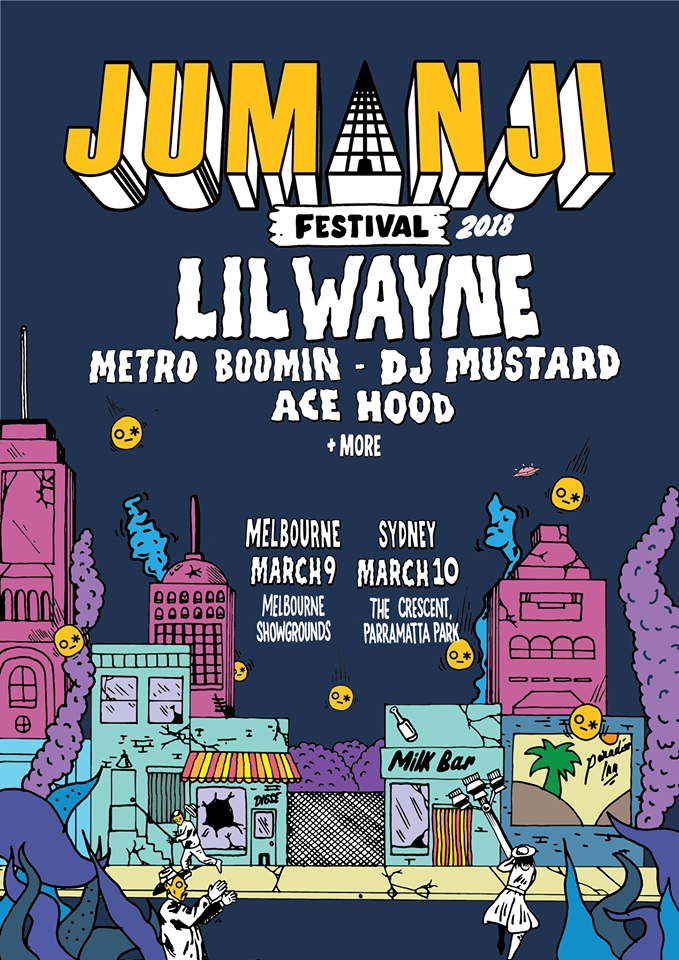 FEEL THE MANJI
In the unseen world, the MANJI's are phenomenal spirits manifested into existence when high energy frequencies of rhythm and vibration are achieved. When the MANJI's begin to dance, the celebration then becomes a JUMANJI.
Deriving from an ancient term covering the many effects of musical ritualization, JUMANJI presents Australia's biggest festival, ever. With shows in Melbourne and Sydney featuring a line up of some of the worlds biggest artists, you don't want to miss out on this. A day of music culture, art and fun...
Join the congregation that is JUMANJI!
Artist line-up
Lil Wayne
Metro Boomin
Tyga
DJ Mustard
Wale
Ace Hood
MadeinTYO
Tickets are on sale NOW via: www.jumanjifestival.com/tickets
For the latest line up announcements, see the Jumanji Festival line-up page.


Competition Winners
Congratulations to the following 5 winners of the Parramatta Park Jumanji competition:
S. Badger
D. Leach
S. Moodley
H. Tileia Iuli
J. Cunningham
All winners have been emailed about collection of their prize.


Frequently asked questions
Event location and times
Jumanji Festival Sydney will be held in The Crescent, Parramatta Park.
Event gates at The Crescent will open at 3pm and the event will close at 11pm.
Please note gates will not open prior to the advertised time.


Audience (age restrictions)
You must be 15 years or older to be admitted into the Jumanji Festival. Permission from a parent or guardian will not be permitted if you are under the age of 15.


Identification
If you are over 18 and would like to enter the licensed area, a valid Australian driver's license, valid passport or Government approved ID card containing a photograph and date of birth is required. Kids under the age of 18 do not need to bring ID.
The following forms of ID are NOT permitted: International driver's license, birth certificates, school ID, consular ID or photocopies of any ID.


Pick up and drop off zones
There is a dedicated drop off and pick up zone at the public carpark on O'Connell Street, Parramatta. Please see the Jumanji Drop Off/Pick Up Zone map for further location details.
Please note, there is no public vehicle access into Parramatta Park from 12noon on Saturday 10 March and there is no stopping allowed anywhere other than the designated drop off and pick up zone. Traffic marshalls will be present.


Food and Drink
There are a number of food and beverage offerings available at this event. You cannot BYO food or alcohol to the event, however alcohol will be available to purchase for 18+ patrons in the licensed area only. Please recycle and dispose of your rubbish responsibly in the appropriately marked bins.


Cash or ATMs
Cards can be used at the main bar areas, food vendors and merch stands. Some vendor may not have EFTPOS facilities however there will be ATMs on site to withdraw cash.


Wet Weather
This event has a rain, hail or shine policy so the festival will go ahead unless serious weather conditions prevent it. Any updates will be posted on the official Jumanji Facebook page.


Smoking
This is a smoke-free event. Smoking is not permitted at the festival site.


Pass outs
There are no pass outs to Jumanji Festival. Once you have left the festival, re-entry is NOT permitted.


Parking information
There is no designated carpark for Jumanji Festival Sydney. Parramatta Park will be a pedestrian zone for this event from 12 midday on Saturday 10 March 2018. This means no vehicles are permitted to enter and park in the Park from 12pm.
There will, however, be a designated drop off and pick area at the O'Connell Street carpark made available for those patrons travelling by vehicle.
Parking is extremely limited in the surrounding areas and we encourage patrons to use public transport to attend this event. The Event ticket INCLUDES travel on Sydney Trains and NSW Trainlink (non-reserved bookings) networks to and from the event.
Head to the NSW Transport website to plan your trip. The closest train stations are Westmead (200m walk down Railway Pde) or Parramatta (500m).
Drivers can park at nearby parking stations around Parramatta such as the Hunter St car park. For more information about other nearby parking in Parramatta, check the Parramatta City Council website


Accessibility
This event has wheelchair access entry points along with bathroom facilities.


First aid
There are professional first aid and ambulance services engaged for this event to ensure the safety and wellbeing of all event patrons.


Illicit Substances
Illicit substances will not be tolerated at this event and police and sniffer dogs may be present.
There will be a rigorous entry process to ensure no prohibited items such as alcohol and illegal substances enter the event sites, please see Prohibited Items List for more detail.


Ticket Refunds
Please read the Terms and Conditions of Sale and Entry.
For further event information, you may contact Jumanji Festival organisers via email info@jumanjifestival.com


Security Checks
Licensed security personnel will be on site at this event. They will assist in ensuring a safe environment is provided manning all entry points at the gates run smoothly, conducting searches and confiscating any hazardous materials.
Expect bag checkpoints upon entry of the festival. Illegal items will be confiscated.
See Prohibited Items List for more detail.


Noise
If you are a local resident with a concern about noise in the area in relation to this event, please call the Sydney Jumanji Hotline: 0491 083 617 (monitored on Saturday 10 March).


Event information