Honour Our Heroes Relay Walk 2018
Sunday May 06
Parramatta Park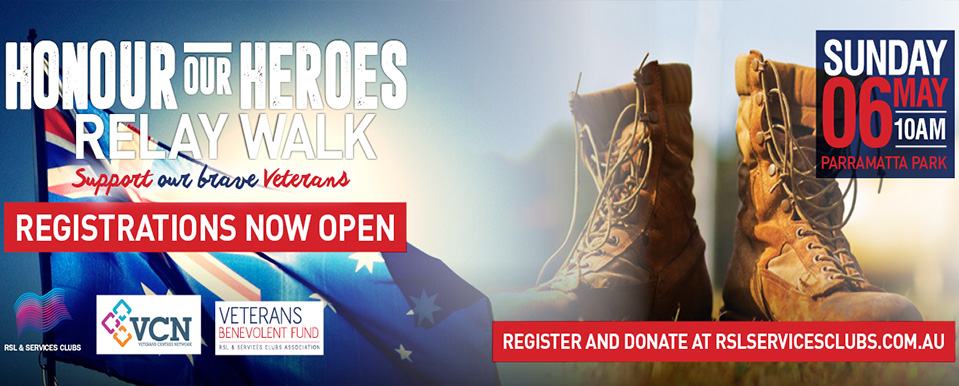 WHAT: Honour Our Heroes Relay Walk 2018
WHEN: 6 May 2018, 10:00 am until 12:00 am
WHERE: Parramatta Park
HOW MUCH: $40 p/ adult, $20 p/child, $100 p/ family (2 adults and any children)
WEBSITE: http://vbf.org.au
Get involved! Have fun! Get walking!

Not just a relay walk, but a family fun day too - Join a team or register as an individual participant and encourage your family, friends, neighbours and work colleagues to make a donation to support your efforts! Or you can give a generous donation towards a person who is walking in the Relay Walk on Sunday 6th May at Parramatta Park. All registrations and donations online. Donations are Tax deductible.

The Relay Walk is to honour the bravery and sacrifice of the 42 Aussie Soldiers who gave their lives for our nation in service in Afghanistan. They will always be remembered. The Relay Walk comprises of fourteen circuits within Parramatta Park, each circuit being 3 kms long – a total of 42 kms over the day! A team can be between 2 and 14 people.

A full day's entertainment and activities will be provided for the whole family whilst team members each complete their leg of the Relay. There will be food stalls, information booths, children's activities, live music and a family fun day in the Park.

All monies raised will go directly to the Veterans Benevolent Fund, which supports our brave veterans and veterans services. Together we can make a difference to these veterans lives!
Frequently Asked Questions


Audience
This is a family friendly event, all ages welcome. All children must be supervised by an adult at all times.


Accessibility / Entry points and exits points
The Bowling Green/Rose Garden, Parramatta Park (Entry/Exit via main gate – Corner of Pitt and Macquarie Street, Parramatta)


Pick up and drop off zones
Team leaders please arrive on Saturday 5th between 1:30pm-3pm or Sunday between 8-9am to secure your team area and set up your marquee. Close drop off access through the Rose Garden car park will only be open. After these times equipment will need to be carried in from where you park (at next available car park).


Food and Drink
Meals, snacks and drinks will be available for purchase at the BBQ, Coffee van and Ice cream van. No alcohol will be allowed, as this is an alcohol free event. Please recycle and dispose of your rubbish responsibly in the appropriately marked bins.


Chairs
Tables and chairs are provided. However, please feel free to bring your own chairs, picnic rugs and tents.

Pets
Pets are allowed as long as they are on a leash and don't disturb others.

Wet Weather
The event will generally go ahead, rain or shine. In extreme bad weather, the organising Committee will decide if it's safe for the event to continue. Contact events team at events@rslservicesclubs.com.au if you have concerns.

Smoking
This is a smoke-free event.


Parking information
There is parking on the grounds. Only park in designated parking areas and marked bays. Please be aware of the time limits and parking tickets that apply to each marked parking bay.
We encourage people to use public transport. Head to the NSW Transport website to plan your trip. The closest train stations are Westmead (200m walk down Railway Pde) or Parramatta (500m).


First aid
The first aid station will be evident in event area. There will be a qualified first aid officer in attendance for the entire event.



Event information