Gatehouse Twilight Jazz Garden
Friday March 06 to Friday April 03
Gatehouse Tea Rooms, Parramatta Park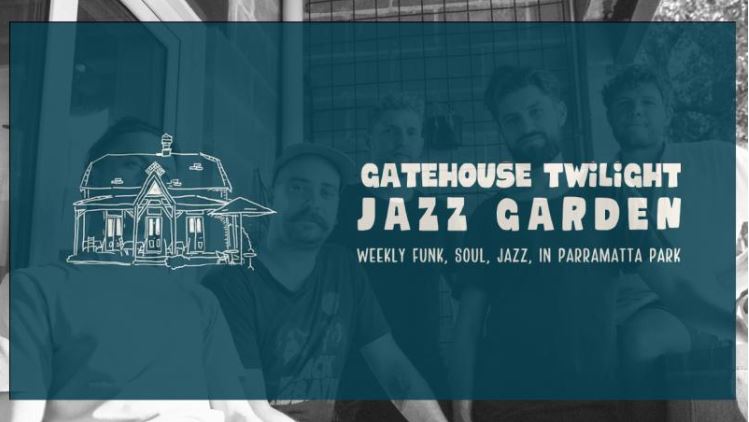 WHAT: Gatehouse Twilight Jazz Garden
WHEN: 6 Mar 2020, 05:00 pm until 3 Apr 2020, 08:00 pm
WHERE: Gatehouse Tea Rooms, Parramatta Park
HOW MUCH: Free
Get ready for weekly funk, soul and jazz in Parramatta Park at the Gatehouse Twilight Jazz Garden, with free weekly live music sessions.

6 March - The Necks
Described by the New York Times as 'the greatest trio on earth', The Necks are masters of longform improvisation with 2 ARIA wins. Each Necks performance features two completely new pieces of music. Every time they step onto the stage it's with no preconceived ideas of what they will play, so get ready to go on a sonic journey that is created at the moment. The Necks is the only ticketed event in the Gatehouse Twilight Jazz Garden series, so get your ticket here.

13 March - BoomChild & Esme
Kick off the evening with Esme at 5.30pm, blending styles of NuSoul and Contemporary RnB, all dipped in honey sweet vocals with glints of jazz and dreamy minimal pop.
Then get ready for BoomChild at 6:30pm, a Sydney-based music collective which brings together RnB, electronic, hip hip, soul and funk-infused sounds - like a love child between Stevie Wonder, Kaytranada and Anderson Paak - for a truly refreshing sound in the Australian music scene.

20 March - Octave Inc - 5:30pm
The creation of saxophonist Michael Slater, an accomplished jazz saxophonist from Tennessee, Slater's jazz quintet is the culmination of a variety of genres, bending the walls of genre with a jazz fusion, centered on free-form jazz and pop. Having just wrapped their first Australian tour off the back of their debut album, prepare yourself for a unique sound and evening at the Gatehouse.

20 March - Rissa 6.30pm
Inspired by the worlds of Neo-soul with luscious blends of soulful roots, silky harmonies and heavy grooves, spend an evening with Australian singer/songrwiter Rissa as she brings music with untainted soul to the Gatehouse Tearooms.

27 March - Natalie Slade- 5:30pm
A neo-soul powerhouse, Natalie Slade's forthcoming debut album, produced by Haitus Kaiyote keyboardist Simon Mavin, overflows with complex, earthy sounds, showcasing her innovative musicianship and skills as a singer-songwriter.

27 March - GODTET- 6:30pm
The brainchild of Australian instrumentalist and producer Godriguez who has been praised for his production on Sampa the Great's 'The Mix Tape', GODTET have quickly become a staple within the emerging Australian jazz and instrumental scene with their album 'House Shoes' being called 'Album of the Year'.

3 April - The Vampires
Trailblazers for a new generation of creative jazz talent from Australia, The Vampires have gained critical attention worldwide by pushing the genre into new realms. With a distinctive sound that is undoubtedly their own, this ARIA-nominated group will bring their highly praised sound to the Gatehouse Tea Rooms.