FOMO 2019
Saturday January 12
The Crescent, Parramatta Park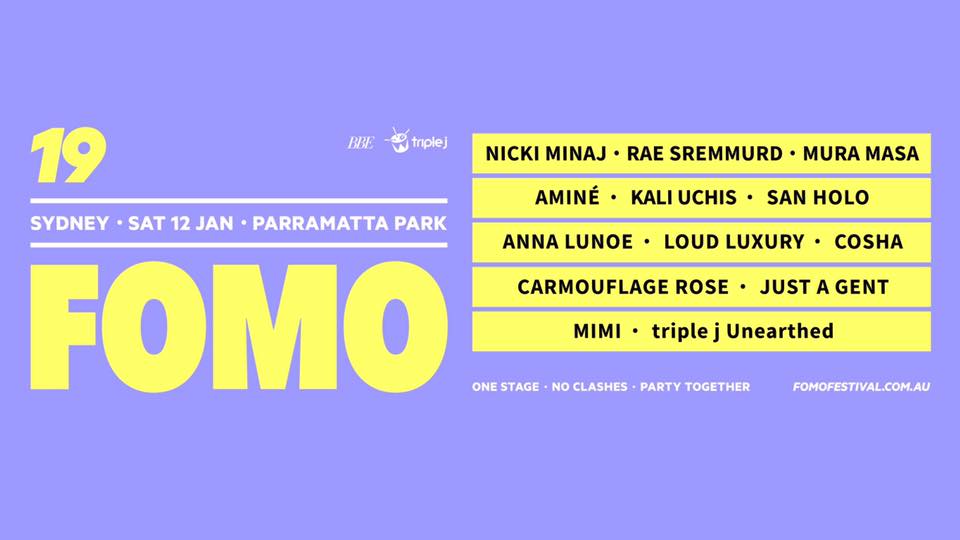 WHAT: FOMO 2019
WHEN: 12 Jan. 2019, 11:00 am until 11:00 pm
WHERE: The Crescent, Parramatta Park
HOW MUCH: $150 - $170
CONTACT: hello@fomofestival.com.au
Don't miss out on FOMO's hectic line up, featuring Nicki Minaj, Rae Sremmurd and Mura Masa.
Performing alongside these huge headliners are singer-songwriter Kali Uchis, producer Mura Masa, Australia's Anna Lunoe, Scottish artist SOPHIE and Dutch DJ San Holo.
FOMO 2019 will be supporting arts charity Heaps Decent and the Asylum Seeker Resource Centre by donating one dollar from every online ticket sold.
Get your hands on a ticket now.
Full Line-Up below:
Nicki Minaj - Rae Sremmurd - Mura Masa
Amine - Kali Uchis  - San Holo 
Anna Lanoe  - Sophie  - Cosha
Carmouflage Rose - Just A Gent 
Mimi - Brux
For more information please got to FOMO 19 website.