Christmas Lunch at Lachlan's
Friday December 25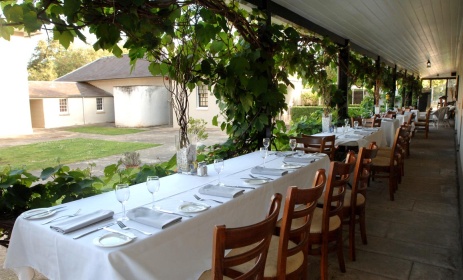 WHAT: Christmas Lunch at Lachlan's
WHEN: 25 Dec. 2015, 12:00 pm until 03:00 pm
HOW MUCH: $155
CONTACT: Lachlans 02 9687 2662
Enjoy a festive feast at Lachlan's Restaurant next to Old Government House
Enjoy Champagne on arrival & a sumptuous six course Christmas lunch INCLUDING port and fine after dinner liqueur chocolates, coffee and tea at Lachlan's Restaurant in Parramatta Park.
Dine on the long verandah under the grapevines or inside one of the historic air conditioned Garrison dining rooms for your special festive feast!
There is one long lunch sitting today starting at 12 noon so you can relax and enjoy your afternoon.
CHRISTMAS DAY MENU
Champagne or Non alcoholic Orange and Grenadine Sunrise
Traditional Bruschetta with vine ripened tomato and basil
Seafood Pot Pie, a seafood combination topped with light filo pasty and served with a dill cream sauce
Turkey Breast Salad finely sliced on greens with cranberry sauce
Roast Pork Roulade on caramelized pumpkin with a honey glaze
Sorbet
Eye Fillet of Beef char grilled and served with pine nut and potato gratin and a sour cherry jus
Rich Plum Pudding soaked in the Chef's best sherry with brandy custard and a sixpence if you are lucky
Chocolate Dipped Strawberries
Espresso Coffee, Port and liqueur chocolates
Please note, this menu may change prior to the event date.
PRICE
Limited number of tables will be available on Christmas Day. Three private rooms seating up to 10, 20 and 30 guests plus the verandah seating tables of 2 to 8 guests.
$155 per adult
$65 per child
Event enquiries: To book your spot, visit www.lachlans.com.au/ChristmasDay2015 or call 02 9687 2662