The People's Loop
The 'People's Loop' is a new two-month trial transforming walking and cycling in World Heritage-listed Parramatta Park. The trial will run from 18 May to 19 July 2020.
With COVID-19 restrictions placing a stronger emphasis on the vital role parks and public spaces play in supporting mental and physical health, we are creating more space in the Park for you to walk and cycle in the fresh air while observing safe social distancing, through temporary changes to vehicle access, parking and circulation. See our response to COVID-19.
This eight-week trial is based on the People's Loop project, a future Parramatta Park plan, and we look forward to hearing feedback on your experience through our feedback survey.
While the People's Loop trial has boosted walking and cycling, there's still plenty of room for cars to park! For West Domain playground access, try the Picnic Ground, Old Orchard and Little Coogee. Nearer the entrance, the Old Government House and Bowling Green parking areas remain open as does Old Kings Oval. Our 340 spaces at O'Connell Street car park, next to Bankwest Stadium, are free on the weekend.
Accessible parking is available and unlimited throughout the Park in any of the several hundred legal parking bays – just make sure you display your mobility permit.
Remember the 30kmh speed limit and enjoy your visit.
Follow us on Facebook or Instagram for the latest news, and don't forget to tag us @parrapark and share your pictures with #ParraPark or #PeoplesLoop hashtag.

People's Loop Survey - Have your say!
Your feedback is important to us and will guide us with future plans for Parramatta Park.
Share your thoughts on the People's Loop Trial by completing our short survey.
You can go into the draw WIN* a $50 voucher to one of our popular Parra Park eateries! Enter now.
The People's Loop map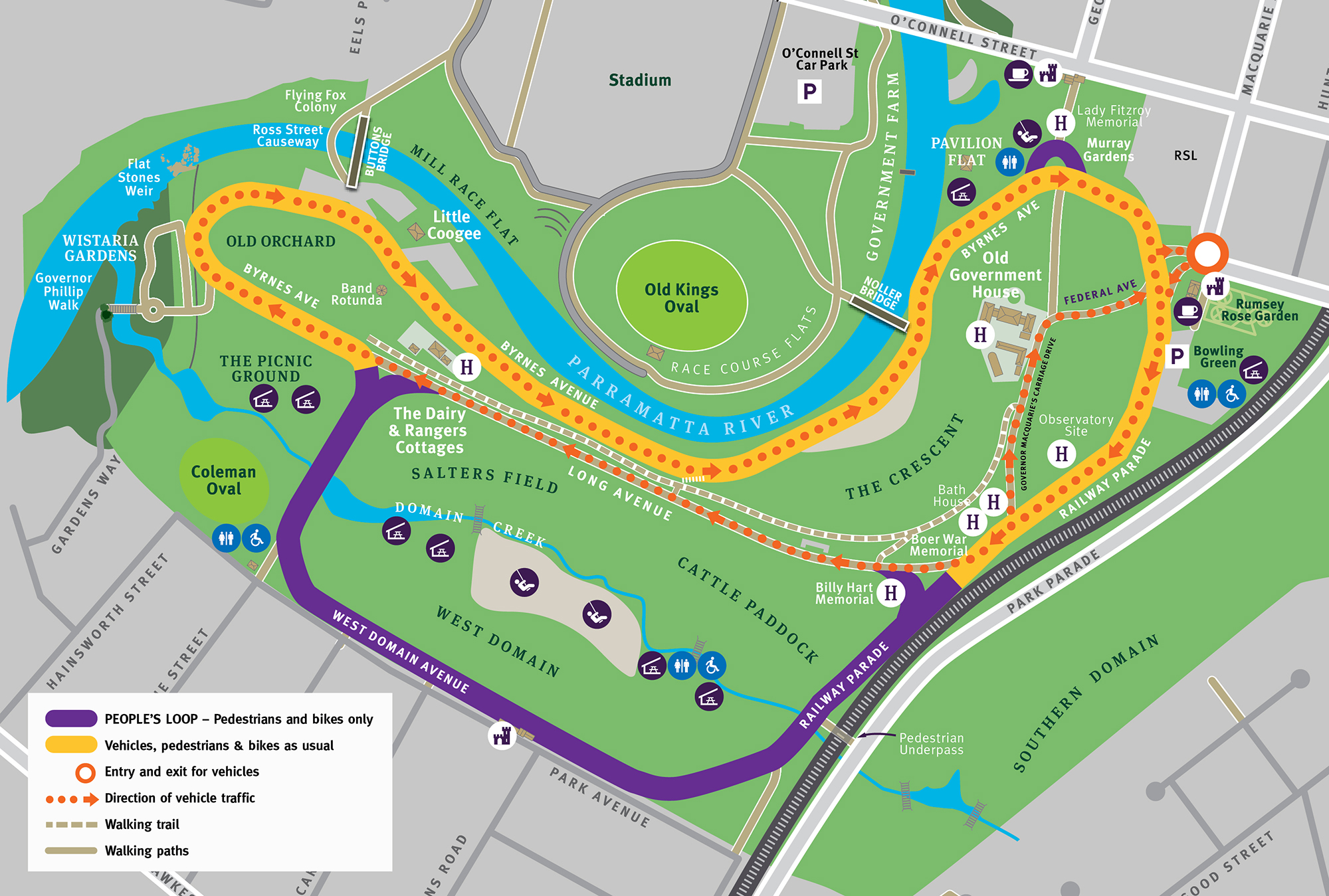 Changed traffic conditions
The Park will remain open to vehicles during the trial but changed traffic conditions include:
Queens Road Gate will be closed to vehicles at all times. Macquarie Street gates will remain open as normal for vehicles to enter and exit the Park.
Cars will be re-routed to travel northbound one way on Long Avenue, creating a car-free, pedestrian, and cycling loop in West Domain area . Roadside car parking along the West Domain area will be closed for the duration of the trial.
Pedestrians on Long Avenue will use the alternate ridgetop footpath. Cyclists may use Long Avenue northbound one way.
Vehicle access to Old Government House and the long stay car parks at the Bowling Green and O'Connell Street will remain as normal.

More information
As a trial, the Trust is keen to see how the community will support this new Park experience.
Please see our Frequently Asked Questions or to provide general feedback, please email the Trust at info@ppt.nsw.gov.au or call us on 9895 7500 during business hours. In addition, the People's Loop hotline is 0457 563 791.
Stay tuned for our People's Loop survey where you can have your say on the changes.
Sign up for Parra Park News to make sure we keep you updated.