Western Sydney's classical music stars of the future perfom at Symphony Under The Stars
Published: 27 January 2017 at 12:00 am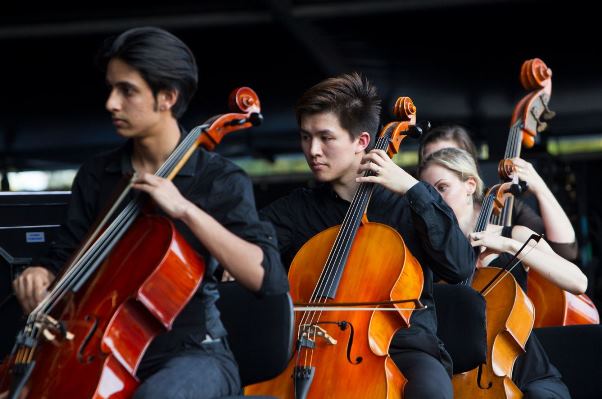 A group of talented Western Sydney musicians will take to Parramatta Park's Crescent live stage on January 28, as a support act for the Sydney Festival's Symphony Under The Stars concert headlined by the Sydney Symphony Orchestra.
The 18 piece string ensemble consists of promising young musicians from Sydney Conservatorium of Music and The Mercy Music and Performance Academy, Parramatta as well as a number of local high schools including Our Lady of Mercy College, Parramatta Marist High School, Elite Violin Academy and Parramatta Cello School.
"While the annual concert by the Sydney Symphony Orchestra is a long-standing Parramatta Park tradition, this is the first time we've brought together students from different local music academies to create a special pre-concert performance," Conductor and Director of The Mercy Music and Performance Academy, Paul Witney said today.
"We've planned a high-energy, uplifting repertoire that includes a variety of popular contemporary hits such as SIA's Chandelier as well as traditional Latin American and Irish scores," Mr Witney said.
"This is a fabulous opportunity for up-and-coming Western Sydney musicians to showcase their skills in a professional environment and gain invaluable experience performing in front of thousands of people".
"Our young musicians are working through the same process as a professional orchestra in preparing for the concert, having to learn a range of diverse music and participate in intensive rehearsals."
Currently completing a Masters of Music Performance at Sydney Conservatorium of Music, Marleen Broekmans has established a successful cello school in Parramatta and will perform on The Crescent live stage with some of her students.
"To be able to 'warm up' the stage for a professional orchestra suddenly takes all those hours of slaving away in the practice room out into the 'real world'. Supporting the amazing Sydney Symphony Orchestra will also inspire and educate students who are embarking on the lifelong journey of learning a musical instrument," Ms Broekmans said.
Kirrily Biskupic is a former student from Our Lady of Mercy College Parramatta who is now completing a Bachelor of Music Education at Sydney Conservatorium of Music.
"It's an amazing feeling performing in front of a large audience and an honour to support the Sydney Symphony Orchestra who inspire me to continue working towards finishing my music degree," Ms Biskupic said.
Sydney Festival's Symphony Under The Stars is an unmissable free, family concert that will be held in The Crescent; a spectacular natural outdoor amphitheatre in the beautiful World Heritage-listed Parramatta Park on Saturday 28 January.
The young musicians' pre-concert program will commence at 6.30pm before the Sydney Symphony Orchestra takes to the stage at 8pm. Introduced by Seven News presenter and MC for the evening, Michael Usher, the SSO will play a series of popular classics, conducted by Jessica Cottis. The evening will conclude with the traditional grand finale: Tchaikovsky's rousing 1812 Overture, complete with cannon fire!
"We're proud to be partnering with Sydney Festival and the Sydney Symphony Orchestra to bring Symphony Under The Stars to Western Sydney audiences," Parramatta Park Trust Executive Director Suellen Fitzgerald said today. "And we're delighted to be supporting some of Western Sydney's brightest young talent, as well."
"The Crescent is all about atmosphere, intimacy and delivering unforgettable experiences in the heart of the rapidly growing City of Parramatta. It's the perfect setting to enjoy a magical evening of classical music," Ms Fitzgerald said.
The young musicians and vocalist Lisa Khouri will perform on The Crescent live stage with the support of Parramatta Park Trust through Arts NSW.