Tropfest adds to record events line-up for Parra Park
Published: 9 February 2017 at 12:00 am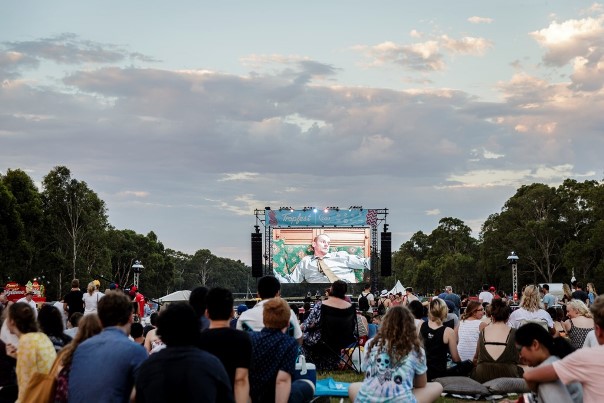 Tropfest Founder and Chair, John Polson has officially launched the 25 year anniversary of the world's largest short film festival ahead of its debut in Parramatta Park this weekend. The now New York-based actor-director was joined by Parramatta Park Trust Executive Director Suellen Fitzgerald, Administrator of City of Parramatta Amanda Chadwick and key supporters CGU Insurance at an "Edgy Jubilee" themed party at Old Government House last night.
Thousands are expected to attend Tropfest and Trop Jr in the beautiful World Heritage-listed park this Saturday for world premiere screenings of finalists selected from hundreds of entries by talented film-makers, school students and professionals alike. The Tropfest program includes live music, entertainment and great food and wine.
The weekend line-up will further boost record attendances for summer events across Parramatta Park. Almost 130,000 people have so far flocked to celebrations as diverse as City of Parramatta's Australia Day, Sydney Festival's Symphony Under the Stars and another new arrival, FOMO independent music festival – held in the Park's beautiful natural outdoor amphitheatre, The Crescent.
"As a proud destination partner of Tropfest, we welcome everyone to Parramatta Park and look forward to seeing the festival grow and attract new audiences over the next three years," Parramatta Park Trust Executive Director Suellen Fitzgerald said today.
"This year's record-breaking crowds for Symphony Under The Stars, FOMO and Australia Day as well as sell-out crowds for The Plot music festival prove the Park is a thriving centre for major cultural events," Ms Fitzgerald said.
New Arts Minister Don Harwin will be one of many dignitaries at Saturday's event. Minister Harwin said he was excited to be attending the iconic Australian festival at its new location.
"It's amazing to think that Tropfest began in a cafe in Darlinghurst – and through its continued popularity now finds itself in Parramatta," Mr Harwin said.
"The NSW Government has been a long-time supporter of Tropfest, one of a suite of film festivals Screen NSW supports across the state. Tropfest launching in Parramatta is a major boost to arts in Western Sydney and is a major drawcard for Parramatta Park."
Tropfest Founder and Chair John Polson said "We are thrilled that Tropfest has found a new home in the thriving city of Parramatta. Tropfest offers aspiring filmmakers the chance to show their film to thousands of people on one night in Sydney and can open doors for the finalists in Australia and around the world".
Tropfest is free to all but if you want to reserve a seat with a prime viewing position, you can Pick your Patch!
Parramatta Park is a ten-minute walk from Parramatta and Westmead Stations, a central transport hub for urban and inter-city trains and buses. Catch the Pineapple Express from Central leaving at 12.01pm, 1.05pm, 2.10pm (just 23 minutes).
Tropfest and Trop Jr will be held in the Cattle Paddock in Parramatta Park.
Tropfest - Saturday 11 February, 2pm-10pm.
Trop Jr. - Saturday 11 February, 12-2pm.