PM celebrates largest Deepavali in the Park
Published: 3 December 2018 at 12:00 am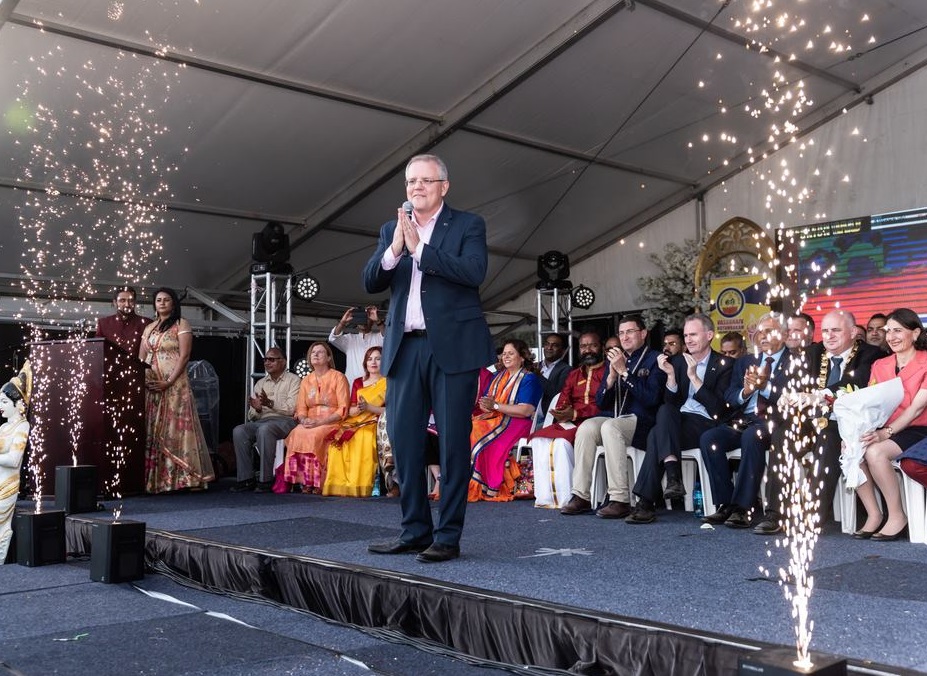 Parramatta Park came alive with the colours and sounds of an ancient Hindu festival earlier this month, as Sydneysiders converged to celebrate Deepavali.
The event has become increasingly popular in Western Sydney in recent years, and a record crowd of over 30,000 turned up to view the burning of an eight-meter-tall Ravana on the Sunday night.
Prime Minister Scott Morrison was in attendance, accompanied by his family. Speaking alongside NSW Premier Gladys Berejiklian at the official proceedings, he compared Australia's multiculturalism to the spice blend garam masala.
"Immigrants to Australia have been about laying down more flavour, more texture, more fabric, more depth, more strength. It's the combination of these things that have come from all parts of the world that makes us such a strong country," Mr Morrison said.
This year's festival included the celestial wedding fete Sri Sitarama Kalyana, which was transported from the famous Sri Bhadrachalam temple in India to Parramatta on a global tour. These sacred icons are only displayed outside the temple every 60 years.
The annual two-day event is now in its fifth year in Parramatta Park. This year also marked twenty years of Deepavali festivals run by the Hindu Council of Australia.
Suellen Fitzgerald, Executive Director of Parramatta Park Trust said that the growing popularity of Deepavali reflects the value of having an urban park suited to bringing together large crowds of people to celebrate cultural events.
"It is fitting that, in our 160th year as a People's Park, we would see the largest Deepavali festival in Parramatta Park so far," Ms. Fitzgerald said.
"For the past five years, the Trust has proudly supported the Hindu community to present Deepavali. With the huge audiences this year, we can now say that it has become a significant multicultural event for Sydney."
Deepavali peaked with the burning of this eight-metre-tall Ravana.