National AILA Award wins for Parramatta Park
Published: 16 October 2020 at 10:30 am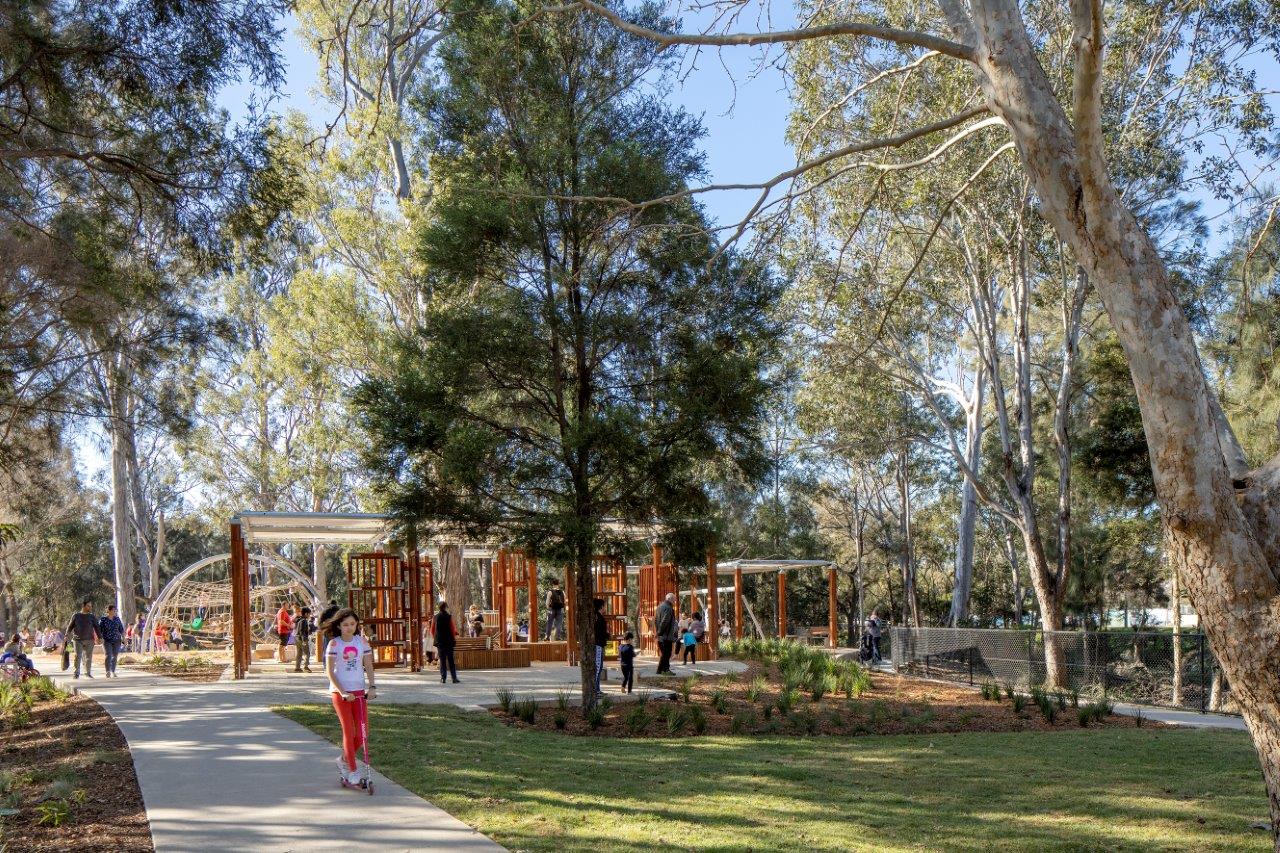 Parramatta Park Trust and its consultants have celebrated two prestigious AILA Landscape Architecture Awards wins for Paperbark Playground and 'Your Parramatta Park 2030 - Conservation Management Plan and Plan of Management' at the 2020 National Landscape Architecture Awards.

The Australian Institute of Landscape Architecture's annual awards acknowledge the nation's leading projects over 15 categories, recognising the positive impact that landscape architecture has on Australian lives through the planning and design of the built and natural environments.

Awards are given to the work judged as most significant for landscape architecture in each category, including the following Parramatta Park projects:
Play Spaces (category) - Paperbark Playground (Parramatta Park) - Phillips Marler in collaboration with Parramatta Park Trust.

Land Management (category) – 'Your Parramatta Park 2030 – Conservation Management Plan and Plan of Management' – Parramatta Park Trust.
Greater Sydney Parklands, Chief Executive, Suellen Fitzgerald said the awards are a tribute to Parramatta Park's focus on innovation and its significant cultural and natural heritage.

"It's an honour to have the creativity and hard work of our staff and consultants recognised on the national stage," Ms Fitzgerald said.

"We are continually striving to achieve innovation and design excellence for the community across our parks, playgrounds and facilities. It is very rewarding to be acknowledged amongst our top industry leaders at these prestigious awards."

Paperbark Playground in the historic Gardens Precinct of Parramatta Park is a new inclusive play space designed for Parramatta Park Trust by Phillips Marler. It was funded by the NSW Government's Everyone Can Play program.

AILA Judges were most impressed with its unique design which combines play and site interpretation, using the architectural form of play and shade structures, interactive artwork and historic images and text.

The playground was constructed using an innovative no-dig strategy to protect significant subsurface Aboriginal and non-Aboriginal archaeology. The design provides a wide variety of play experiences which are accessible to all ages of varying abilities, including wheelchair users, within an evocative setting which responds to the cultural and natural significance of its location.

'Your Parramatta Park 2030 – Conservation Management Plan and Plan of Management' was also praised by AILA judges for its innovation in land management. The Plan sets goals for the next decade to ensure the Park's heritage values underpin how the Trust plans, activates and manages the Park for current and future generations.

The Plan's vision for Parramatta Park is a place for community and celebration in the green heart of the River City. The vision includes long-term goals for the Park as a space where people can be healthy and active and embrace the site's rich heritage values.

AILA judges said the Plan successfully integrates a culturally significant 85-hectare landscape spanning Cumberland Plain Woodland, the Parramatta River, open grasslands, sporting fields and heritage structures.

The jury found the joint plans to be an easily understandable guide for park users in the ongoing care and development of a much loved and important city green space.

'Your Parramatta Park 2030 – Conservation Management Plan and Plan of Management' is available here.
Media contact: Lindsay Banffy Media and Communications 0407 610 679